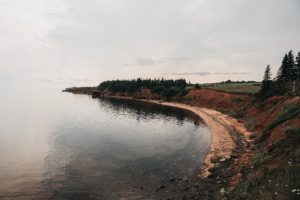 Earlier this month, Sequoia sent out a survey to our LISST-ABS users to get feedback on how we can continue to improve this instrument. Survey participants were entered into a drawing for $200. Our winner was Cindy Crane from the Prince Edward Island (PEI) Department of Environment, Water and Climate Change. She elected to donate her winnings to the local Queen Elizabeth Hospital Foundation. Not only was she kind enough to complete our survey & give her prize to charity, she also allowed us to interview her about her work. She provided us with wonderful insight into what it's like to work in environmental monitoring within the public sector in Canada.
Within her department, Cindy works as a Surface Water Biologist in the Air and Water Monitoring section, overseeing surface water quality monitoring programs and reporting the results of these monitoring programs to the public. While PEI is Canada's smallest province (about 5600 sq. kilometers or 2200 sq miles) – it has 1700 km (1100 miles) of shoreline and hundreds of small rivers, streams and ponds. Cindy is responsible for programs that monitor both freshwater and near-shore marine areas, including estuaries and bays. While these programs may be relatively small-staffed, they cover a lot of territory and she often gets to do a bit of fieldwork herself.
Prince Edward Island is also Canada's most developed and densely populated province – so there is a lot of opportunity to monitor and mitigate human impact on the environment. As a result, there are hundreds of (active and historic) monitoring sites across the province. One of the biggest environmental issues PEI faces is siltation of its streams, rivers, and estuaries. PEI hosts a lot of agriculture and construction, and also quite a few miles of un-surfaced roads. Because of this, and because the PEI sees a lot of rainfall and its soils are highly erodible, it is important to monitor sedimentation events within the province.
Historically, optical instruments have been used to measure turbidity for monitoring the sedimentation events in the province. However, keeping optical equipment operational in the face of bio-fouling tended to be time-consuming, as the local streams are biologically highly productive. Because of this, Cindy's department has turned to sediment monitoring in their freshwater streams using acoustic instruments instead.  For several years, they used a small ADCP that worked well, but did not provide an output analogous to a suspended solids value. It also had a relatively large measurement depth of field which was subject to noise.
About two years ago, the team "discovered" the Sequoia LISST-ABS and thought it had potential due to its relatively short measurement distance which reduces noise. It also produces an output in mg/l, which allows for simple comparisons to TSS measurements. The instrument is factory-calibrated to a wide range of particle sizes which is very applicable to the stream conditions found within PEI. The first LISST-ABS was installed in June 2019. A second LISST-ABS was installed July 2020. The two streams chosen for this pilot represent a range of land-use conditions for PEI.
The LISST-ABS's have been working very well for the province so far. They've been relatively maintenance-free and work well with the department's existing network of data loggers. Both sites are set up with satellite communications so that Water and Air Monitoring staff can view the data in near real-time (This data is not available to the public just yet as they are still in the pilot stage of determining the efficacy of the instrument in monitoring sediments in fresh water in PEI). Field calibrations are still in the pilot stage of determining the efficacy of the instrument in monitoring sediments in fresh water in PEI). Field calibrations are still underway, but the LISST-ABS looks like a promising tool for PEI to meet its sediment monitoring needs.